This was a terrific, traditionally styled Beaujolais.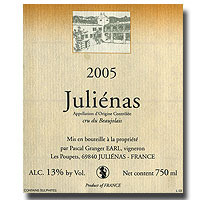 Medium dark crystal black ruby. Deeply minerally nose (powdered granite) with hard cherry/plum candy scents. Soft, but forceful flavors paralleling the nose. Beautiful balance, medium body, and a lengthy, stone-filled finish. Superb, old-style Beaujolais, emphasizing texture, crisp fruit, and minerality rather than the now ubiquitous ripe grape/banana candy stuff.
88
. Was $16.80 at Spec's on Smith.